Winter Wonderland: Holiday Tampa Bay Buccaneers gifts for fans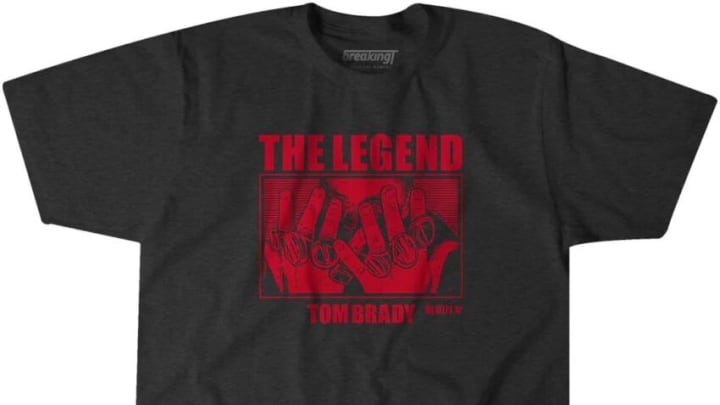 BreakingT /
Happy Holidays! The temperatures drop, the trees get lit and everyone starts making their lists. These Tampa Bay Buccaneers gifts are must-haves.
Who doesn't love the holidays? There's nothing like a little 'Jingle Bells' to get you feeling merry. Whether you turn on the carols the day after Halloween, or wait until the turkey's out of the oven, there's no judgment here.
But, there's a lot of work for the holidays. And this year it's as difficult as ever with prices rising. However, that doesn't mean your loved ones can't have something under the tree this year.
That's where we come in.
We've put together a list – and checked it twice – of Tampa Bay Buccaneers gifts that every fan would love.
Check them out below.
BreakingT /
BreakingT's Unique Designs
Unique, stylish, well-fitting shirts? Of course those make a great gift! Most designs also available as hooded sweatshirts. Shop the collection starting at $32.
Fanatics /
Nike Salute To Service Team Logo Hooded Sweatshirt
Made with Therma-FIT technology. The NFL does not profit on the sale of Salute to Service items. Order at Fanatics for $99.99.
Fanatics /
New Era 39THIRTY Flex Fit Sideline Hat
This season's two-tone sideline hats look great. Anyone would love to have one under the tree. Order at Fanatics for $37.99. 
Amazon /
Tudor Games Red Zone Electric Football
A companion app lets you keep score with ease – and the Tudor Games store features licensed NFL team miniatures, for a more authentic experience. Order at Amazon for $44.99. 
fuboTV /
A fuboTV Subscription
We're entering the most exciting time of the football year… Bowl games, the NFL playoffs and ultimately the Super Bowl. Make sure your friends don't miss a single snap. Start a free trial of fuboTV. 
EA Sports /
Madden NFL 23
Available on PS4, PS5, Xbox One and Xbox Series X as digital download or a physical disc. Revamped scouting and improved throwing lanes are among the improvements to EA's long-running football simulation. Shop Madden 23 at GameStop.
Fanatics /
Authentic Autographed Memorabilia
Go big or go home this holiday season and hook someone up with some authentic autographed memorabilia. Jerseys, footballs, cards, photos… you name it and Fanatics has it. Shop autographed memorabilia at Fanatics. 
Beer Drop /
Beer Drop Subscription
You know what goes well with football? BEER. There are three different crate options – six beers, eight beers and ten beers. Here's how it works: You'll choose beer styles they love, and Beer Drop will use those selections to recommend beers. Or, you can fully customize each crate. Shop Beer Drop, starting at $39.
Amazon /
Munchie Mountain
When the game starts, the snacks need to be on the table. With Munchie Mountain, the entire crew will have their favorites on gameday. Order at Amazon for $31.
Amazon /
Playmakers: How The NFL Really Works (And Doesn't) by Mike Florio
Controversies don't slow down the shield. Why? ProFootballTalk's Mike Florio dives into an all-encompassing look into today's NFL – on the field and off. Order at Amazon for $18.
Happy Holidays, FanSiders!
This post contains affiliate links, where we may receive a percentage of any sale made from the links on this page. Prices and availability are accurate as of the time of publication.