Comparing current Buccaneers players to classic Thanksgiving foods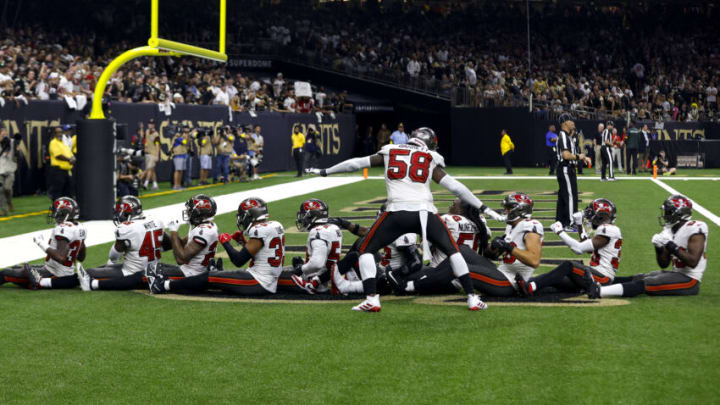 Jamel Dean and the defense, Tampa Bay Buccaneers (Photo by Chris Graythen/Getty Images) /
Thanksgiving is here, and just because the Tampa Bay Buccaneers aren't playing doesn't mean we can't still have fun. So in that spirit, it got us thinking, which Buccaneers players are most like which Thanksgiving food?
Alright, look. Thanksgiving is this writer's favorite holiday and football is this writer's favorite sport. Since part of the job is helping run this very site you've found yourself on (and we give thanks for that by the way) what better way to celebrate than to compare players on the current Tampa Bay Buccaneers roster to classic Thanksgiving dinner dishes? Admittedly, the caffeine is helping with the genesis of this journey, but that is ok. So let's get to it. Which Buccaneers players are which Thanksgiving food? We'll cover the classics.
Feel free to shout out what you think works or doesn't, or if we forgot anything. After all, Thanksgiving is a community holiday with family, and Bucs fandom is certainly a family. It's especially true when you consider the arguments and debates. Enough of that though, let's eat.
Buccaneers Gravy – Tom Brady
This one is pretty simple to explain. Tom Brady makes every team he's on infinitely better. In fact, the organization from top to bottom even gets better. How do you make any Thanksgiving food taste better? Why you drown it in gravy of course.
Buccaneers Turkey – Lavonte David
Some may be expecting Brady here, but here's the thing. When people think of Thanksgiving dinner over the past 400 years, they've thought of turkey. When people think of Buccaneers football for the last decade, they think of Lavonte David. He's been the mainstay and the straw that stirs the drink. Ergo, he's the turkey.
Buccaneers Green Bean Casserole – Leonard Fournette
Green bean casserole can get a lot of flack, perhaps necessarily. A lot of it has to do with the fact that it isn't always done right. Leonard Fournette is similar. He's a good back, but not always used in the best way. When both are right though, they can be elite. Look no further than Late Season Lenny/Playoff Lenny/Lombardi Lenny.
Buccaneers Mashed Potatoes – Mike Evans
Mashed potatoes have been a Hall of Fame side dish for as long as time itself, and not just on Thanksgiving. As such, people seem to forget just how special it really is. The same can be said for Mike Evans. He's the best wide receiver the Bucs have ever had, and the most consistent wide receiver in the entire NFL for close to a decade, and not enough people seem to realize. Sometimes it isn't easy being good.
Buccaneers Baked Mac and Cheese – Tristan Wirfs
For some reason, when people think of Thanksgiving dinner, baked mac and cheese sometimes flies a little too under the radar. The fact of the matter is, it's the best food option on Thanksgiving, and no argument to the contrary will be entertained. The same goes for Tristan Wirfs. He's arguably the best right tackle, and arguably the best tackle period, in all of football, and nobody talks about it. We're here to provide justice to both Wirfs and baked mac and cheese.
Buccaneers Stuffing – Vita Vea
This one is just too perfect. Stuffing stuffs your belly (hence the name), and Tevita Tuliʻakiʻono Tuipulotu Mosese Vaʻhae Fehoko Faletau Vea stuffs the line of scrimmage pretty much single-handedly thanks to his Herculean strength and his belly. Stuffing is also near or at the top of most people's Thanksgiving food rankings, but perhaps not as many as it should be. Much like Vita Vea and NFL interior defensive linemen.
Buccaneers Creamed Corn – Antoine Winfield Jr.
Corn can be prepared and eaten in many ways, and often is on Thanksgiving, all of which are delicious. Creamed corn has become the mainstay, so we'll roll with that. Similarly, the Bucs have used Antoine Winfield Jr. in a variety of ways so far in 2022, and he's rocked them all. He's primarily a safety, but also has been used in the slot playing one on one with receivers, and done so with great aplomb. Winfield isn't going anywhere anytime soon, and neither is corn on Thanksgiving. We also can't stress enough that this is in no way calling Winfield "a corn" either.
Buccaneers Dinner Rolls – Chris Godwin
This is not shade on cornbread or anything. Cornbread is amazing. It's just easier to lump all of the bread/rolls together. With that said, the dinner roll of the Buccaneers is Chris Godwin. It's very easy to lose track of how many rolls one eats during an average Thanksgiving day dinner meal, to the point where it gets excessive. In the case of Godwin, he gobbles up targets like it's nothing regardless of who is playing quarterback, and continues to do so even when his health may not be 100%. It's easy to miss it but man is it great.
Buccaneers Cranberry Sauce – Devin White
With cranberry sauce, people either love it or hate it. For the last season and a half, pretty much every game after Super Bowl LV, in fact, it appears that has been the case with Devin White. The fact of the matter is, White, like cranberry sauce, is a mainstay to stay around. He still flies around the ball and makes plays, while cranberry sauce will stay on your dinner table whether you like it or not. While White can be better, he's still having a very good year, and career to boot.
Buccaneers Pumpkin Pie – Ko Kieft
For dessert you can really go with any pie here, especially considering Ko Kieft always looks like he just downed an entire pie by himself, and it's glorious. We'll go with pumpkin pie though since it's probably the pie most synonymous with Thanksgiving. It also helps that Kieft himself looks like a big ol' pumpkin.
So there it is the perfect Tampa Bay Buccaneers Thanksgiving plate. At least for this writer to chow down. Feel free to make your own plate though. It is Thanksgiving after all.