Buccaneers dangerously close to missing playoffs altogether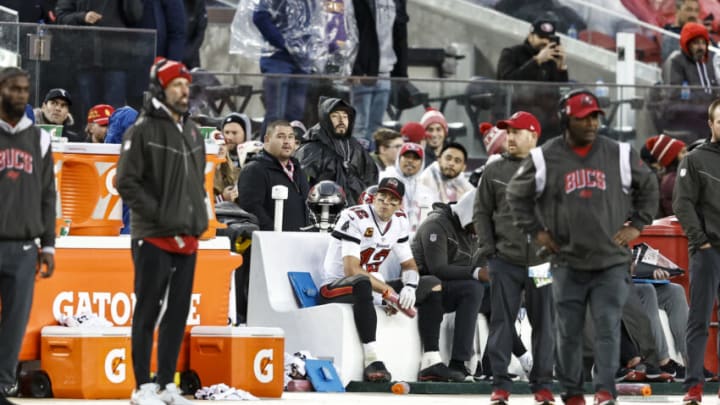 Tom Brady, Tampa Bay Buccaneers (Photo by Michael Owens/Getty Images) /
Tom Brady and the Tampa Bay Buccaneers are close to doing the unthinkable, and missing out on the playoffs. That would be an unquestioned disaster for the Buccaneers, but also one that is not out of the question.
Tom Brady has not missed the playoffs since the 2002 season. Ironically, that was his first full season as a starter, and the season the Tampa Bay Buccaneers hoisted their first Lombardi Trophy. Fast forward to 2022, and not only is the Super Bowl seemingly out of reach for the Buccaneers, but the playoffs very well could be as well.
When Tom Brady, who is the GOAT of GOATs is your quarterback, anything is possible and the sky is the limit. Unfortunately for the Bucs, "anything" doesn't mean all possibilities are positives. There really isn't any way to sugarcoat it, the Buccaneers got absolutely dog-walked by the San Francisco 49ers, in what just might be rock bottom of this 2022 season. The hilarious thing is, their 6-7 record is still good enough to have a one game lead in the monstrosity that is the NFC South division.
The thing is though, the Buccaneers can still easily miss the playoffs.
The Bucs hold a two-game lead over the New Orleans Saints, but have already swept them. However, they also hold a one-game lead over the Atlanta Falcons and Carolina Panthers, both of whom they still have to play. Now, that might not seem so bad on paper, but the Panthers already beat the Bucs once, and it took a bogus roughing the passer call for the Buccaneers to beat the Falcons at home. Those divisional games are never gimmes.
This isn't even mentioning that the Bucs still have to play the Arizona Cardinals on Christmas night, and of course  the defending AFC champion Cincinnati Bengals this upcoming week.
To put it kindly, the Tampa Bay Buccaneers are sputtering at the absolute worst time. Even with Tom Brady, what seemed like a slam-dunk NFC South crown and home playoff game, is all of a sudden anything but.