Lone Buccaneers Pro Bowl selection was the right choice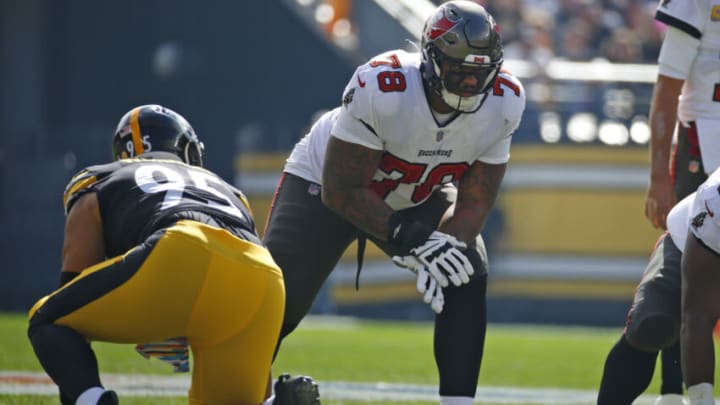 Tristan Wirfs, Tampa Bay Buccaneers (Photo by Justin K. Aller/Getty Images) /
Only one member of the Tampa Bay Buccaneers has been selected to the pro bowl. If any Buccaneers player wore to go, this was the right choice.
Say what you want about the Pro Bowl, and a lot has been said, but it does hold importance to players when it comes to legacies. It's even true when the NFL has revamp the Pro Bowl to not be a game, if you want to call it that, but rather "Pro Bowl Games". With that being the case, Tristan Wirfs being the lone representative selected for the Tampa Bay Buccaneers may be seen as a bit of a letdown. In fairness, though, the 2022 Buccaneers season is a let down as a whole so there's that.
With that all being said, Wirfs is still the right choice to represent the Bucs. That may be controversial, but that's where we are with the Buccaneers.
Sure, Tom Brady certainly has a case. It's especially true, considering he leads the NFC in passing yards by some divine miracle. However, the three quarterbacks that were selected for the NFC may just have stronger cases.
Jalen Hurts very well may win MVP, so that's a no doubter. Then you have Geno Smith, and while he may not have the numbers, many thought the Seattle Seahawks were tanking and playing for the number one overall pick. Yet with his leadership has them possibly getting into the playoffs as a wildcard.
The strongest argument would be against Kirk Cousins, which is certainly valid. To be fair though, he and the Minnesota Vikings are sitting at 11-3 with arguably the worst defense in the league. Of course he is throwing to Justin Jefferson, but let's not act like Brady is devoid of weapons at his disposal.
Wirfs meanwhile, has been arguably the best right tackle, if not the best tackle, in all the football since he entered the league. He is the one constant and consistent player on this all of a sudden shaky Buccaneers offensive line, and is helping keeping this team afloat. The fact that he's already been carted off the field this season yet still received this honor speaks volumes to the respect and talent he has.
Not only that, it's nice that he is finally getting more and more recognition around the league, because make no mistake about it, Tristan Wirfs is elite. While it would be nice for the Tampa Bay Buccaneers to have more than one player named, I didn't exactly like they deserve it either. We won't argue that the right player was selected.