Buccaneers should jump at chance to target crazy coaching candidate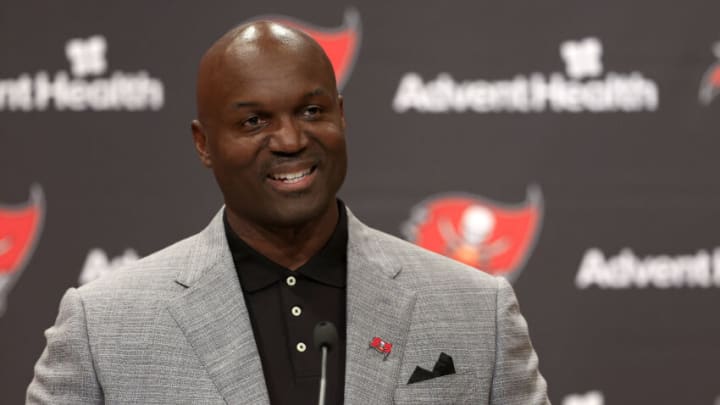 Todd Bowles, Tampa Bay Buccaneers (Photo by Mike Ehrmann/Getty Images) /
The Buccaneers aren't going anywhere with Todd Bowles as their head coach. A change could hopefully be on the horizon, and there is one crazy option that the team should jump at if it was ever a real possibility.
This one is about to piss off a certain sect of the Buccaneers fanbase that already gets mad at everything.
We've reached the point of the season where a lot of people are starting to catch on to the idea that Todd Bowles is not the answer for the Bucs at head coach. If you haven't yet, you will. This guy isn't finishing his contract, and if he did, the Buccaneers would be way worse from it.
This team is going nowhere until a dramatic change is made.
In a world of realism, a change won't come yet. There has been too much success in Tampa in recent years to make a move like this, and likely winning the NFC South puts this necessary option out of reach.
It's sad. We'll have to deal with another half season of Bowles before the franchise is forced to cut bait and waste another full year before the turnaround can begin.
Oh well.
However, with holiday magic still in the air, it's nice to dream. Maybe the Buccaneers do make the right decision and fire their coach. Who would they go with?
There are plenty of names that are coming out for coaching jobs (some that we have all seen before), but the hottest right now is Sean Payton.
Payton is objectively one of the best coaches in the league over the past twenty years, and shockingly, he is getting some money in the betting odds for the next head coach of the Buccaneers.
What?
Would Payton really go to a team that he coached against for so long and in such heated conditions? We wouldn't buy it for a second, but if there was any part of Payton that was open to it, the Bucs should do everything in their power to bring him in.
Sure, you might have to deal with some weird Taysom Hill stuff and having a guy that you hated for so long as your coach, but the results speak for themselves. Payton is excellent at constructing rosters and getting the most out of an offense, and that is what the Buccaneers need more than anything.
No one should ever bet on this happening, we get it. But it is interesting to see how the money is coming in.
Winning is all that matters in the NFL. Payton would give the Bucs the best odds of doing that. This won't ever happen, but it is still fun to think about as a way of getting out of such a rough time in franchise history.
Want to write about the Buccaneers? Apply below!
The Pewter Plank /
Want your voice heard? Join the The Pewter Plank team!