How Buccaneers coach can save his future in Tampa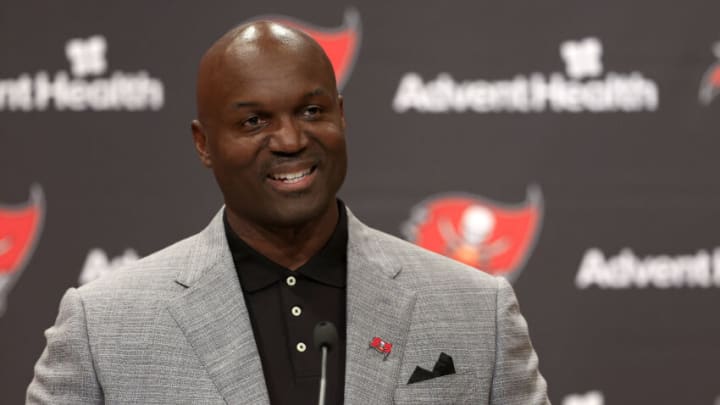 Todd Bowles, Tampa Bay Buccaneers (Photo by Mike Ehrmann/Getty Images) /
Buccaneers head coach Todd Bowles might be on the hot seat in the minds of many fans after a disappointing season, but Tampa's head coach can still save his job.
The Buccaneers aren't making any changes at head coach with the team firmly in the playoffs. The regular season sure was awful, but nothing short of a 55-0 loss in the first round would have the Bucs examining a change.
Should the team move on from Bowles? There is an argument for yes. The team is capped offensively and in several other important areas with a defensive coach, and a conservative defensive coach at that, and it does seem unlikely that Bowles will make it through his full tenure either way.
Regardless, Bowles should get a shot to save his job in 2023 if what we have seen is any indication, and the path to doing this should be relatively easy.
Firing Byron Leftwich and finding an offensive coordinator that actually knows what analytics are is a great start. Bowles' side of the ball on the Bucs has been excellent overall in 2022, so that side of the ball isn't a problem. The team just has to score more points.
A new coordinator should fix that issue and help some of the concerns regarding Bowles' abilities. There might still be some issues with some kicks from too far out and punting from some terrible spots, but this defense with a semi-competent offense should be able to keep someone's job safe forever.
None of that comes with Leftwich, and Todd Bowles needs to recognize this soon if he wants to keep his job.
A young quarterback and a coordinator that has ideas built in the last ten years of football are the best way to keep from rocking the boat any further for now.
Want to write about the Buccaneers? Apply below!
The Pewter Plank /
Want your voice heard? Join the The Pewter Plank team!