Who sang the National Anthem at the Super Bowl this year?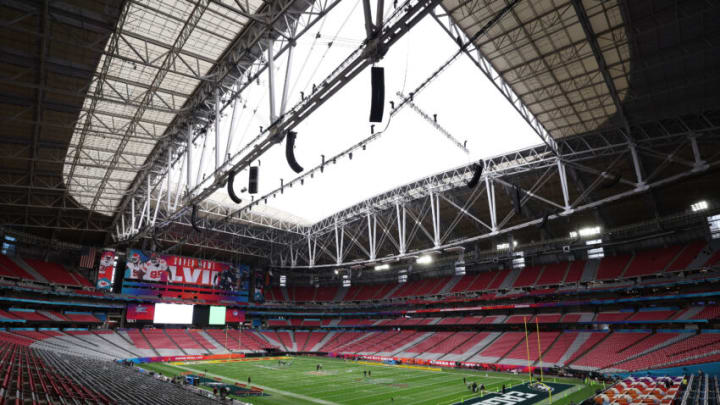 GLENDALE, ARIZONA - FEBRUARY 11: General view of inside State Farm Stadium ahead of Super Bowl LVII on February 11, 2023 in Glendale, Arizona. (Photo by Gregory Shamus/Getty Images) /
Sparing hyperbole, the Super Bowl is the center of the pop culture universe every year.
It's the perfect collision of sports and entertainment, with two of the best teams on the planet playing for one of the most well-known trophies in the world, against the backdrop of the biggest celebrity party of the year.
The halftime show and — and to a lesser degree than in the past, the commercials — are pop culture mixers that make the Super Bowl the most watched event every year it happens. But while those things make the trifecta of reasons folks tune in, the National Anthem and everything that surrounds it is just as notable.
From prop bets, to who is singing, to praying that it doesn't get screwed up — or praying for it depending on what sort of content you like — the Anthem is often slept on as part of the cultural charcuterie that makes up the Super Bowl.
Who sang the National Anthem at the Super Bowl this year? (Updated 2023)
While the halftime show is the centerpiece of the Super Bowl's contribution to the pop culture conversation, don't sleep on the National Anthem. Not only is it a popular prop bet — gambling on whether the singer will go over or under a projected time — but it's a chance for someone to gain some cultural currency without needing to play the halftime show.
This year, eight-time Grammy-winning country star Chris Stapleton will sing the national anthem.
Who is Tony Kotsur?
He won't be alone in singing the anthem, however. Oscar-winning actor Troy Kotsur will perform the national anthem in American Sign Language. Fans will recognize Kotsur's face when they see him, but might not be able to place where they've seen him before.
Kostur won the Academy Award for Best Supporting Actor last year for his role in CODA. His acceptance speech already ranks up there among the best ever at the Oscars.
In case any Bucs fans are wondering, Demi Lovato sang the National Anthem for Super Bowl LV, which kickstarted one of the greatest nights in franchise history.
Going back to Super Bowl 50, here's who has performed the Super Bowl national anthem:
2022: Mickey Guyton
2021: Eric Church and Jazmine Sullivan
2020: Demi Lovato
2019: Gladys Knight
2018: Pink
2017: Luke Bryan
2016: Lady Gaga