Baker Mayfield crashed Tristan Wirfs interview with Pat McAfee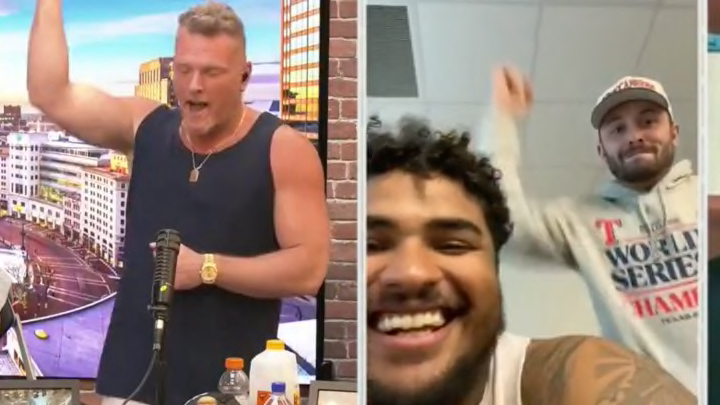 It was a true bounce back game for the Tampa Bay Buccaneers last week in just about every imaginable way.
The defense went from allowing 39-points to suffocating the Titans offense, giving up just six points and keeping Tennessee out of the endzone. Offensively the Bucs woke up a bit too, with Baker Mayfield putting together another impressive performance.
One of the best and most memorable plays of the day, though, happened thanks to a player who isn't used to toting the rock. After Baker fumbled at the end of a scramble in the second quarter, Tristan Wirfs scooped the ball up and took off rumbling down the field.
It wasn't a legal play, as only the player who fumbled the ball was eligible to move it downfield but that doesn't change how much life the play has taken on after the fact. Tampa Bay crushed Tennessee and sits just a half-game back of the Saints for first place in the NFC South, but the biggest takeaway from the game was Wirfs big run.
Baker has done his part ot keep the lore of the play alive. He mentioned it in jest during his postgame press conference, posted about it on his Instagram, and crashed an interview later in the week to once again bring it up.
Baker Mayfield crashes Tristan Wirfs' interview with Pat McAfee
Wirfs was making an appearance this week on the Pat McAfee show and it took less than a minute for Baker to crash the interview. Not only that, he popped in to once again bring up how awesome it was to see his offensive tackle ripping and roaring down the field after his fumble.
"He was toting that rock," Baker said after popping up in the background of Wirfs video call. "Just toting that rock."
McAfee loved the surprise cameo, Wirfs couldn't get enough of it, and we got to see another glimpse of the sort of fun energy Baker has injected into the team this season.
A win on Sunday went a long way in making this moment feel as good as it did, but it's yet another example of the type of impact Baker has had on the team. Wirfs would speak on that later in the interview, noting that while things are a bit different than they were with Tom Brady, Baker's energy is what has made things feel special.
"He's been awesome," Wirfs said of Baker. "Just the passion he brings every day, like you just saw, every single day at the facility is incredible."
Whether or not Baker is the future under center for the Bucs is a question that will need to be answered over the remainder of the season. If his impact on the locker room counts for anything, though, Jason Licht can feel validated that he found the right guy to usher the team into a new era.
More Tampa Bay Buccaneers news and rumors