Buccaneers' Most Hated Man Tournament: Round One, Game Eight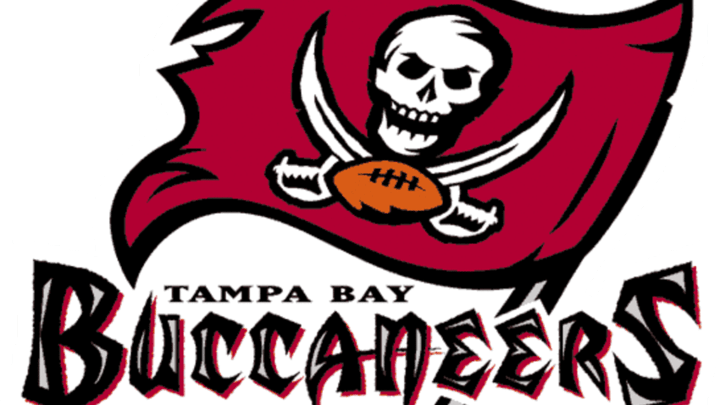 The Buccaneers have a history with a lot of highs, and a lot of lows. There have been many players, coaches, and front office people that the fans hate.  We continue now to choose the most hated.
Over the last forty seasons, the Buccaneers have given their fans a lot of memories that would be better considered as nightmares.  Poor on-field performances, bad coaching, and much more.  There have been some strong performances, even a Super Bowl win.  But there are still a greater number of personalities that Bucs Nation hates to this day.
More from Bucs News
Oct 4, 2015; Tampa, FL, USA; The Tampa Bay Buccaneers logo is reflected in a puddle before the start of the game at Raymond James Stadium. Mandatory Credit: Jonathan Dyer-USA TODAY Sports /
But who do the fans hate the most?  It's time for the final game in round one of "Buccaneers' Most Hated Man".  It's an interesting one, so let's get right to it.
In one corner, we have Michael Clayton! Remember this guy, Bucs' fans? He came to Tampa Bay with the 15th overall pick in the 2004 draft. Clayton brought with him great anticipation, and as a guy that stands at 6'4″ tall, why not? He posted 21 touchdowns in college, and the team was expecting a lot.
In his rookie season of 2004, the Bucs' got a lot. Clayton posted 80 receptions for 1,193 yards and seven touchdowns. From there, it was all down hill for Clayton, as he earned the name "stone hands". Over the rest of his Bucs' tenure (2005-2009), Clayton managed to post three touchdowns. He never posted more than 38 receptions in a season again. His best receiving yards total was 484 yards. Needless to say, Michael was not very good.
Clayton spent two insignificant seasons with the New York Giants, never seeing the field, before he was out of the NFL after the 2011 season.
To summarize, a first round pick that performed well as a rookie, followed by an epic meltdown.
Do you hate him, Bucs Nation?
And in this corner, we have Steve Spurrier! Our readers that have watched this team since the beginning will know this one, but let's bring our younger readers up to date. You probably know Spurrier as a college football coach. What you don't realize, is that Spurrier was actually the Bucs' QB in their first season, 1976.
Spurrier was a first round pick of the 49ers back in 1967. After a .500 career, the expansion Buccaneers thought to bring in the hometown Spurrier (he grew up in Florida), to quarterback the team. How did he do? In twelve starts, he led the Bucs to zero victories. Yes, folks, in that inaugural, zero win season, Steve Spurrier was the quarterback.
Does he get your vote?
OK, Bucs Nation, let's complete our first round bracket.  You have two days, vote away!