Buccaneers 2016: The Jameis Winston Effect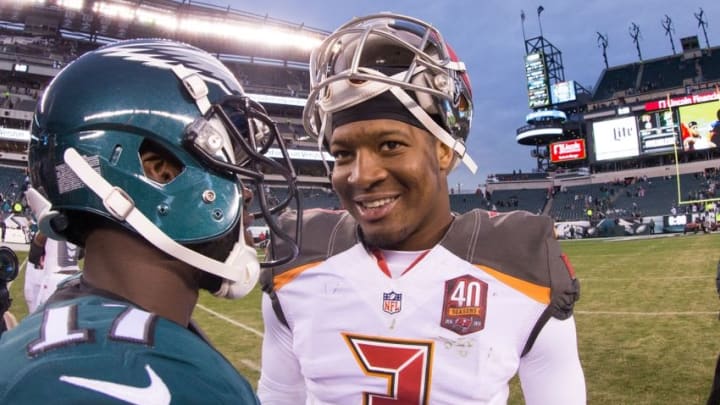 Nov 22, 2015; Philadelphia, PA, USA; Tampa Bay Buccaneers quarterback Jameis Winston (3) talks with Philadelphia Eagles wide receiver Nelson Agholor (17) at the conclusion of the game at Lincoln Financial Field. The Buccaneers won 45-17. Mandatory Credit: Bill Streicher-USA TODAY Sports /
You're starting to see it, and it didn't take long. We weren't even halfway into the 2015 season before
Jameis Winston
took over as the unquestioned leader of the Buccaneers. Now, it's creating a trickle-down effect.
More from Bucs News
At twenty-two years old, carrying the weight of an NFL franchise on your back would make most people crumble. We've seen top overall picks, as well as multiple first round picks, used on quarterbacks year after year after year. In 2015, the Buccaneers used the top pick on Florida State quarterback Jameis Winston. The future of a franchise was simply placed in the hands of a kid who had just reached legal drinking age three months earlier. And not just the future of the players. No. The front office, the coaching staff, everyone placed their hopes and futures in his hands.
And now, we're beginning to see why.
Dec 6, 2015; Tampa, FL, USA; Tampa Bay Buccaneers quarterback Jameis Winston (3) runs the ball in the second half against the Atlanta Falcons at Raymond James Stadium. The Tampa Bay Buccaneers defeated the Atlanta Falcons 23-19. Mandatory Credit: Jonathan Dyer-USA TODAY Sports /
See, it wasn't just that game in Atlanta, where Winston rallied the team around fellow rookie Kwon Alexander, whose brother had just been murdered. It wasn't just the game against the Cowboys, where Jameis ran in the winning touchdown. It wasn't just the second meeting with the Falcons where, somehow, Winston successfully converted a 3rd-and-18 on a scramble when he was hit by three defenders after gaining less than ten yards. It's behind the scenes, too.
As much as Jason Licht wants to deny it, Winston appears to have some serious pull inside One Buc Place. There were three players Winston publicly went to bat for leading up to the draft; Jalen Ramsey, Noah Spence, and Roberto Aguayo. Of those players, the Bucs walked away from draft weekend with two of them. Free agents are starting to look at Tampa as more than a place to get a big paycheck without state income taxes. They're beginning to look at it as an opportunity to play with "Famous Jameis".
A player like Noah Spence, whose off-field concerns have been well documented, has found himself in an ideal situation. He's in the company of a close friend, who is no stranger to off-field controversy. Spence and Winston became friends when playing together in the Under Armour All-American game together when they were both coming out of high school. Winston, at a very early age, finds himself in the position of being a mentor, helping Spence get acclimated to life as a pro and, if needed, keeping him on track.
Winston has been nothing short of a model citizen since the moment he was drafted, focusing on his career and getting involved in the community. Free agents are beginning to take notice of the culture change in Tampa Bay and it won't be long before you hear them saying the same things we've heard about other marquee players. Media members will ask why players wanted to come here and will get the response, "I really wanted to play with Jameis Winton."
Next: Former Buc Helps Out Mothers
Winston will continue to deny his role in things, in fact when asked about Spence he said, "I can't really do much. At the end of the day, my opinion really doesn't matter. Our guys upstairs are going to do a good job." At the end of the day, we all know how NFL teams really operate; if you have a franchise quarterback, do whatever it takes to keep him happy. I believe we're beginning to see that play out for the Buccaneers.