Postseason Or Bust For Buccaneers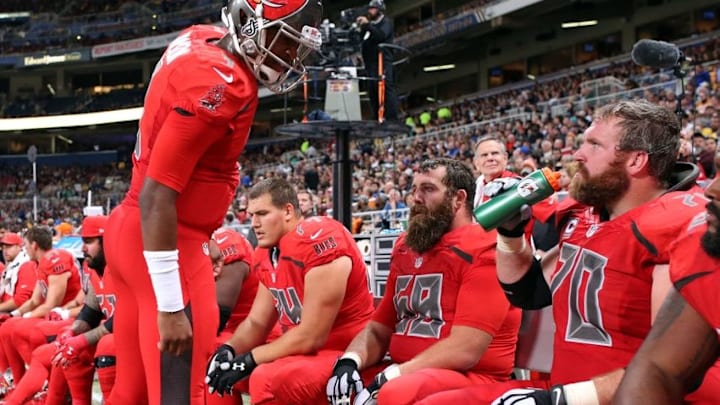 Dec 17, 2015; St. Louis, MO, USA; Tampa Bay Buccaneers quarterback Jameis Winston (3) talks to his teammates on the sidelines in the second half against the St. Louis Rams at the Edward Jones Dome. The Rams won 31-23. Mandatory Credit: Aaron Doster-USA TODAY Sports /
After years of futility, the Buccaneers have built a contending team. Well, at least on paper.
More from Bucs News
The Tampa Bay Buccaneers have been cellar dwellers for the better part of a decade. However, the process of building a contender is almost complete. They have a franchise quarterback in Jameis Winston, a young offensive line, a rebuilt secondary spearheaded by free agent acquisition Brent Grimes and rookie Vernon Hargreaves III, a solid running attack, new hope on the defensive line, and most importantly, a head coach we can believe in.
But what does it all mean?
Quite simply, it means the Buccaneers have to make the playoffs. Now.
Bucs' fans have waited long enough. Years and years of patience have come to this; a team they can get behind with confidence. The talent is there. We saw glimpses of it in 2015, despite a 6-10 record and a four game losing streak to end the season. Dirk Koetter's offense was a record setter in Tampa and he'll be instituting more of his offensive gameplan this season given that it's Winston's second year in the system.
Having a defensive coordinator that actually utilizes the strengths of his players for success is a breath of fresh air. No more forcing players to do things to fit a system. Instead, instituting a system that fits the players. Genius, right?
For this team, playoffs are a must. Not saying they need to go to the Super Bowl. It'd be nice, but not necessary. Not even saying they have to win a playoff game. Getting there is the first step in the team's evolution. Look at the Indianapolis Colts and Andrew Luck. Rookie year, they are one and done in the postseason. Next year, they make it to the divisional round. Luck's third year they're in the AFC Championship. It's a step-by-step process.
However, in order to take the first step, they have to get there. As tough as the schedule looks on paper, it doesn't matter. Anything can happen in the NFL. Yes, the Denver Broncos' defense is crazy good, but the offense is led by Mark Sanchez. The Atlanta Falcons aren't scaring anybody anymore. The New Orleans Saints are on the decline. The Seahawks and Cardinals are terrifying, but who knows what will happen. They could suffer key injuries or have a down season. The Buccaneers have to take advantage of every opportunity they get in order to will themselves into the postseason.
Many fans will disagree with this. Many will consider 8-8 or 9-7 with no playoffs a success. That's the loser mentality that has infected this team for years. Why settle for slight improvement? They need to take a giant leap to that next step. With the talent on this team, there is no reason to settle anymore. No reason to hang your hat on moral victories. Moral victories are simply putting a positive spin on poor performances. That all ends.
Buccaneers fans, rise up. Fill Raymond James and make it a place teams hate playing in, much like the glory days of the late 90's-early 2000's. Get behind this team and let them feed off your energy, your pride. Jameis Winston & Co. will get us there, but not if the franchise, the locker room, the fans keep settling for mediocrity.
Next: Bucs' Backfield Is A Major Strength
They deserve better from us. We deserve better from them. Together, we will get there.