Tampa Bay Buccaneers Week Eight Winners and Losers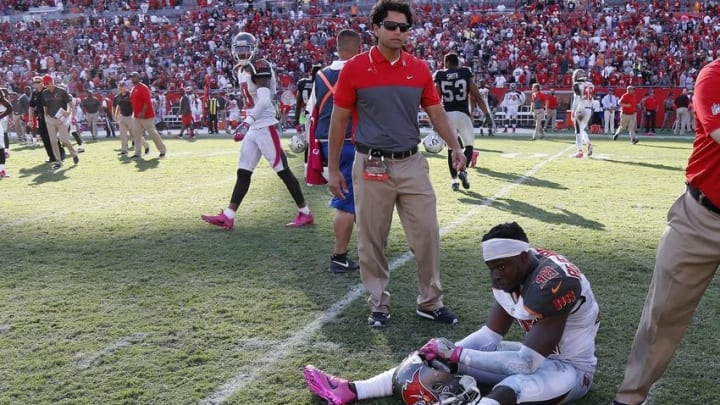 Oct 30, 2016; Tampa, FL, USA; Tampa Bay Buccaneers cornerback Jude Adjei-Barimah (38) reacts after they lost to the Oakland Raiders in overtime at Raymond James Stadium. Oakland Raiders defeated the Tampa Bay Buccaneers 30-24 in overtime. Mandatory Credit: Kim Klement-USA TODAY Sports /
The Tampa Bay Buccaneers had a chance to make a statement here against the up and coming Oakland Raiders. It didn't work after the Raiders decided to stay in Florida after the Jaguars game, the Bucs were the ones who had to travel across country flying home from San Francisco.
This game was pretty brutal for both teams. Raiders set the record for penalties and the Buccaneers lost to the team that set the record for penalties. The Bucs lost in OT 30-24. Let's take a look at the winners and losers from this gut wrenching defeat.
Loser: Entire Secondary
More from The Pewter Plank
Where to begin? Let's start with the 513 passing yards, ninth most in NFL history. The Bucs' secondary showed us that if you have a competent quarterback i.e. Matt Ryan, Carson Palmer, Derek Carr, you will be able to pass on this team with relative ease. That is exactly what Carr did to this team. He found Amari Cooper and Michael Crabtree 20 times for 281 yards. Now let's talk about some specific plays. Up seven with 1:50 left in the game the Raiders have fourth and three at the five and Carr had to chuck it up to Crabtree and it went incomplete. It should've been game over, but nope, holding by Jude Adjei-Barimah on the other side of the field while the ball was in the air. The Raiders tied it on the next play.
There were so many blown coverages by everyone allowing the Raiders to stay in the game. Hargreaves had a bad missed tackle on Michael Crabtree setting up a potential game winner for the Raiders. The worst play had to be the last one. All you have to do is keep them from getting four yards. They get Seth Roberts open and Bradley McDougald makes a horrible attempt at a tackle hitting his own teammate and allowing Roberts to breakaway and score the game winner. This was the worst display of passing defense in a long time for this team. Improvements will need to be made this offseason.
Winner: Wide Receiver Russell Shepard
Welcome back to the winner's circle Mr. Shepard. After having a career day last week against the 49ers he had a beautiful touchdown catch in the first half giving the Bucs a 10-0 lead. Russell Shepard is a special teams captain but he's been playing like an offensive captain the past two games.
With Vincent Jackson done for the year he is stepping up when the Bucs need him the most. The Bucs have been rumored to be targeting a wide receiver before the trade deadline, but now they may not look to overpay for anyone before the deadline. Shepard finished the game with two catches for 24 yards and a touchdown.
Loser: Kick Returner Ryan Smith
Welcome back to the loser's circle Mr. Smith. After struggling returning kicks last week the same mistakes happened again this week. Muffing a first half kick outside the end zone forced him to pick it up and try and gain some yards. Luckily he did recover the ball but he only gained 12 yards and forced the Bucs to start yet another drive deep in their own territory. I think Dirk Koetter needs to reconsider the kick returning duties after this game. Not only is he underperforming on special teams but he somehow can't get playing time over the horrendous safeties that this team is trotting out every game.
Winner: Running back Jacquizz Rodgers
After not scoring a touchdown since week one of 2014, Quizz came in clutch scoring late in the fourth quarter. After two straight 100 yard games he didn't surpass that number today but he did put up some solid production in his third start with Doug Martin still out. Unfortunately he was injured in the fourth and did not return. The Bucs really could've used his shiftiness in OT to make some plays. He finished with 69 yards on 19 carries and nine yards on one catch. Hopefully he can get healthy for their next game against the Falcons if Doug Martin is still unable to go.
Loser: Kicker Roberto Aguayo
There really isn't much to say here that I haven't said already. Aguayo just can't make kicks. I made him a loser last week, even though he only missed one deep kick but there's got to be something going on in his head that is making him miss. He has now missed SEVEN kicks this season. Outside of the game winner against Carolina he's hurt this team much more than helped. You can't release him because of his draft position but maybe he can get benched or placed on injured reserve with a mental issue. I miss Matt Bryant.
Winner: Punter Bryan Anger
Probably the most underrated free agent acquisition the Bucs' punter leads the league in hang time. It's never good when the punter is a winner in the game because that means the offense was not effective. With the ineptitude of the offense Anger made the best of his opportunities. He had eight punts for 384 yards and 3 inside the 20. He could've had another but the Bucs couldn't grab the ball before it bounced in the end zone.
Averaging almost 50 yards per punt really should've helped the Bucs with the field position battle but when your secondary can't stop a nosebleed you're going to give up a lot of yards. Thank you Anger for putting up as good a performance as you could've given the circumstances.
Bonus Loser: Second Half Offense
Jameis got off to a great start in the first half, controlling the ball and completing passes with great accuracy. At one point he had an 80% completion rate. I don't know what happened after that but he lost all control of his accuracy and ended with 16 completions on 32 attempts, good for a 50% completion rate.
Outside of the two touchdown drives in the third quarter the Bucs mustered up an abysmal 21 yards of total offense. I don't know if this is play calling, Winston's overthrows, and or the multiple injuries at running back but that was embarrassing. Not only that, but four of the seven drives were three and outs including their two in overtime. The Bucs recorded 150 total yards of offense in the pretty much three quarters after half time which is not going to cut it when your defense allows 626 total yards.
Next: Bucs vs. Raiders: Immediate Reactions
This had to be one of the most difficult games for Bucs fans to watch in a long time. I know I wasn't enjoying myself for most of the game. At least the Bucs have some time to regroup and get healthy, oh wait they play Thursday night. Well Bucs' fans I don't know how else the team can bounce back from this one on a short week besides doing the exact opposite of what they did today.