Buccaneers Rankings: How the secondary rates among NFC South rivals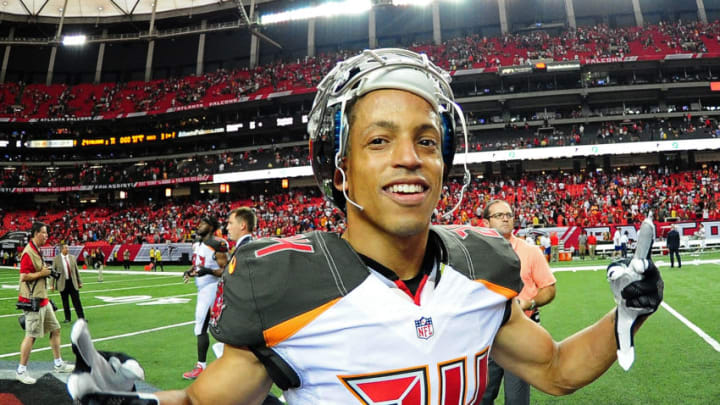 ATLANTA, GA - SEPTEMBER 11: Brent Grimes #24 of the Tampa Bay Buccaneers celebrates after the game against the Atlanta Falcons at the Georgia Dome on September 11, 2016 in Atlanta, Georgia. (Photo by Scott Cunningham/Getty Images) /
NEW ORLEANS, LA – DECEMBER 24: Vernon Hargreaves /
Looking at the Buccaneers pair of outside defenders, it's important to remember how potential adds value, but performance wins games.
Drafting a cornerback in the first round isn't always going to lead to defensive success. When Jason Licht took one last year, it was encouraging for most to see the team address the secondary.
Once a point of pride, the Bucs defense had fallen off over the last decade-plus.
This move was a good step forward, but where does it put them entering 2017.
4. New Orleans Saints – Delvin Breaux and PJ Williams
The Saints had one of the most explosive offenses in the NFL last year. They also had one of the softest defenses.
This hasn't gotten much better at cornerback other than the hopes Breaux may stay healthy this year.
If he does, then the unit will certainly do better than last year, but this duo is all potential at this point.
Edging out the Saints for number three here is the Panthers young duo of Bradberry and Worley.
Most of the pressure is going to be on Worley in 2017 as teams surely see Bradberry as the better of the two.
Still, there will be plenty thrown at each of them. If Carolina's defense is going to be resurrected, these two will need to have a solid leap from year one to two.
We've seen this happen before. Star player gets off to a great start only to plateau or get bit hard by the injury bug.
Next thing you know, said star is an afterthought, and only his team's most diehard fans remember him five years later.
I'm not saying this is going to be Desmond Trufant, but after missing zero games in his first three years, the budding star appeared in only nine contests last year.
His counterpart missed six games in 2014 and has missed just one in the two years following. So this isn't a doomsday prediction, but something worth watching nonetheless.
When Trufant is on the field, this defense is better. Still though, as a unit this team gave up the fifth most passing yards in 2016.
We'll have to see if they can both stay healthy, and if they do, they could certainly outplay this ranking.
According to the NFL's Next-Gen stats, the Buccaneers' Brent Grimes finished fifth among all cornerbacks in the league.
I remember hoping-against-hope the Bucs would pick up Grimes when he left Atlanta, and since he's finally joined the squad, he definitely delivered.
Maybe it was the fact Miami cut him following a less than stellar 2015 season, or maybe the Dolphins simply blamed the wrong guy.
Either way, Tampa's staff of former Atlanta coaches certainly hit the jackpot bringing in their former stud to become their current star.
Across from him, VHIII didn't have the greatest rookie season, but he showed some flashes to inspire some confidence moving forward.
Having an entire year under his belt will help, and an off-season spent covering DeSean Jackson should inspire some solid growth.
While most of Hargreaves still sits on the potential side, there's enough there to give the Buccaneers the top duo when paired with a Top-5 corner in Grimes.
The Bucs take round one, but we've got two more to go.