Buccaneers have the leadership to play 16 straight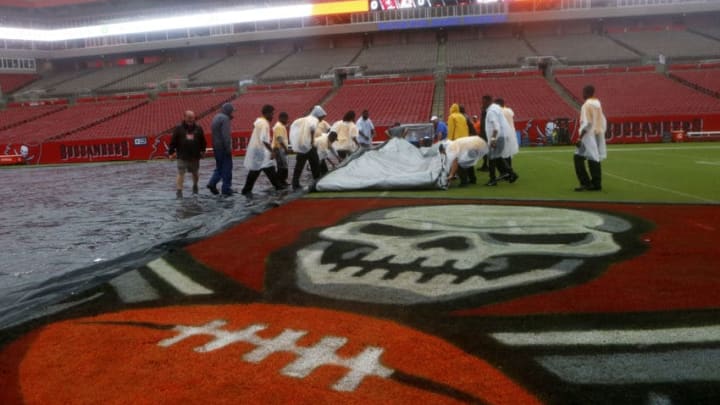 TAMPA, FL - AUGUST 31: Members of the Tampa Bay Buccaneers' grounds crew remove a large tarp off of the playing field as heavy rains associated with Tropical Storm Hermine impact the Tampa Bay area prior to the start of and the Washington Redskins on August 31, 2016 at Raymond James Stadium in Tampa, Florida. (Photo by Brian Blanco/Getty Images) /
With their match-up against the Dolphins pushed to Week 11, the Buccaneers no longer have a bye week. Despite the physical tax that 16 straight games will have, the team has the right leadership in place to deal with such adversity.
The Buccaneers were supposed to get their season underway this Sunday in Miami. Due to the impending impact of Hurricane Irma, that match-up was pushed to week 11. Now that Tampa Bay is off in week one, the team will have to play its 16-game schedule in consecutive weeks. That will surely take a big toll on the players physically, but mentally, this roster can handle it. The right leadership is in place.
By all accounts, quarterback Jameis Winston is a strong leader. The third-year quarterback is focused, and he will have no problem getting his teammates to follow his example. From the man himself:
Some players were outspoken about losing the bye week, and they made some good points. Playing 16 weeks in a row isn't exactly the best for player safety. The other 30 teams in the league now have an advantage, even if you think it's slight, over the Bucs and Dolphins. But there's simply nothing that anyone can do about it now. The only thing that these guys can do is make sure they and their families stay safe through the storm, then get locked in for the 16-game haul.
Physically, there's no telling what can happen. But the team can control the mental side of things. This is where Winston comes in as a leader. He knows that these circumstances were out of anyone's control, which is absolutely right. His focus will be key throughout the season. Obviously, his teammates are professionals, so they won't necessarily need any guidance as far as mindset goes. But there is no question that an example will be set by the face of the franchise.
Now, Winston isn't the only one that remained level-headed through this situation. Head coach Dirk Koetter also gets it. He unsurprisingly had his priorities in order, preaching that football is, at best, secondary at a time like this.
Safety does come first. But once this is all over with, Tampa Bay will need to get things in gear for a brutal 16-week schedule. There should be no doubts about Koetter's ability to get his team ready. Whether it's for the Bears next Sunday, the Vikings the week after or the Dolphins in week 11, the head coach will have his guys prepared.
Next: Buccaneers Talk: T.J. Ward, week one rescheduled, Hard Knocks with Trevor Sikkema
The Bucs have to play the hand they were dealt. It won't be easy to handle physically, but there's no question that the focus will be there. Tampa Bay knows that this is its best team in years, and there's a lot at stake. An uncontrollable circumstance in week one won't define the entire season.