Buccaneers: Arizona State Sun Devils 2018 NFL Draft prospects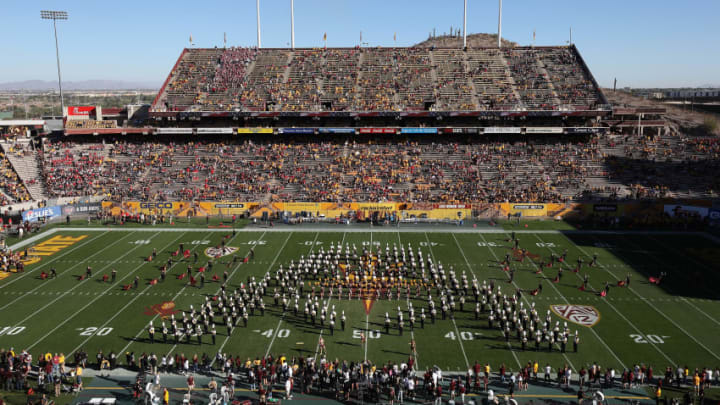 TEMPE, AZ - NOVEMBER 25: The Arizona State Sun Devils marching band performs before the college football game against the Arizona Wildcats at Sun Devil Stadium on November 25, 2017 in Tempe, Arizona. (Photo by Christian Petersen/Getty Images) /
We're winding down our look at college prospects the Buccaneers and all the other 31 NFL franchises will be looking at. Up next, is my soon-to-be alma mater, Arizona State University.
The Buccaneers need a running game. Not many disputes this fact.
From the Sun Devils' 2018 class, there just happens to be a player who can help satisfy the need, but is he going to be the guy they select when the time comes?
Time will only tell. For now, let's take a look at him and the other eligible Arizona State players entering the 2018 NFL Draft.
Here are the ASU Seniors:
Linebacker, DJ Calhoun
Defensive Back, Maurice Chandler
Defensive Back, J'Marcus Rhodes
Running Back, Jacom Brimhall
Offensive Lineman, A.J. McCollum
Defensive Lineman, Christian Hill
Wide Receiver, Ryan Jenkins
Tight End, Frank Ogas
Offensive Line, Tyler McClure
Must Read: Bucs Tight End Preview
SENIOR PROSPECT TO WATCH: RUNNING BACK, KALEN BALLAGE
The Buccaneers surely saw Ballage's impressive Senior Bowl performance. However, this doesn't always lead to real NFL success.
In four years playing for the Sun Devils, the 6'3" running back rushed for nearly 2,000-yards and caught passes for another 684. He also totaled 29 touchdowns in his career.
Decent numbers for sure, but nothing that put him on the national map as a top collegiate player.
While there are always obscure names which rise during the Senior Bowl, there are even more which rise during the combine.
Ballage could also become one of those. He certainly has all the trappings of a potential 'workout warrior' this year.
NFL.com's draft profile of Ballage has him projected to go in the fifth or sixth round currently. While he may be a Senior Bowl flash in the pan, or a combine 'workout warrior', spending a sixth rounder is a good price for the potential.
If he lasts this long, a team like the Bucs would surely have to give him a look or two.
Next: The Quest to Find a Defensive End
The following players are underclassmen who declared for the 2018 NFL Draft:
UNDERCLASSMAN TO WATCH: GUARD, SAM JONES
The Buccaneers could certainly use some help inside on their offensive line. They could go early in the draft for this, or they could look later, even reaching into the undrafted pool.
Jones' biggest concerns at this point pertain to strength. Being an interior lineman, it's going to be crucial for his draft stock to put on a good show at the combine with his bench press.
If he does well, then he may get taken in the later rounds. If not, then he may be there for Jason Licht to grab up and develop while his body gets stronger.
He's found gems outside the selection meeting before. Maybe Jones can be another.
"Scott Smith of Buccaneers.com joined the Locked on Bucs podcast for their latest episode! Check it out here!"
Which Arizona State University player would you prefer to see on the Buccaneers' 2018 roster?
David Harrison is one of the Buccaneers Co-Experts for The Pewter Plank. You can reach him about this or any other NFL topic on Facebook, or on Twitter.