Tampa Bay Buccaneers: Pre-season round table talks Super Bowl 53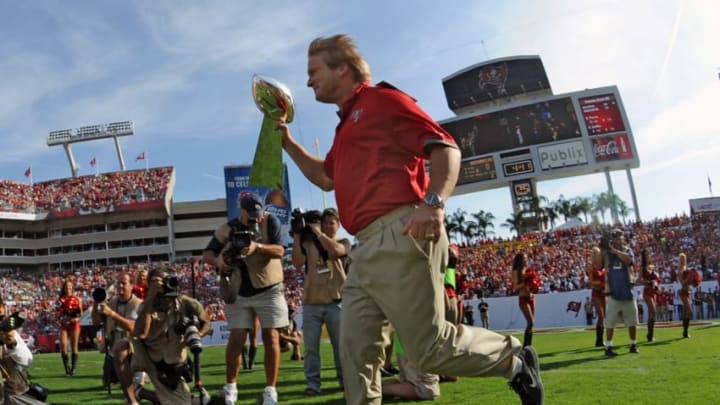 Jon Gruden, Tampa Bay Buccaneers, (Photo by Al Messerschmidt/Getty Images) /
PITTSBURGH, PA – JANUARY 14: Blake Bortles #5 of the Jacksonville Jaguars runs with the ball against the Pittsburgh Steelers during the second half of the AFC Divisional Playoff game at Heinz Field on January 14, 2018 in Pittsburgh, Pennsylvania. (Photo by Rob Carr/Getty Images) /
Bailey Adams
First of all, if the Buccaneers somehow were to make it back to the Super Bowl, I don't think I'd be able to contain myself. The thought of it makes me giddy. But if I were to hand pick the opponent, there are a few teams I'd narrow it down to.
One obvious choice is the New England Patriots. Ric Flair's famous line "to be the man, you gotta beat the man" is my main reasoning behind the first option. Could you imagine Tampa Bay squaring off with Tom Brady and Bill Belichick in the Super Bowl and coming away with the Lombardi Trophy? Ooh, boy. Beating the NFL's top dynasty would be incredible. Plus, every football fan in the entire country, outside of the New England region, would be rooting for the Bucs. That would be fun.
More from The Pewter Plank
Another option is the Pittsburgh Steelers, which is more personal to me. Why is it personal? Because I can't stand the Pittsburgh Steelers. I don't like Pittsburgh sports, but the Steelers are especially awful to me. I'm not even really sure why. Maybe it's the fans. It could be Ben Roethlisberger. But does it really matter? I don't like the Steelers, so the Bucs coming face-to-face with them on the NFL's biggest stage and beating them would make the franchise's second Super Bowl that much sweeter. Plus, it would make up, at least some, for the Pittsburgh Penguins knocking the Tampa Bay Lightning out of the 2016 Stanley Cup Playoffs in game seven of the Eastern Conference Final.
Okay, so the Patriots and Steelers are two of my top choices. But if I'm forced to choose just one opponent for the Bucs to face in the Super Bowl, I'd go with the Jacksonville Jaguars.
I have no disdain for the Jags at all. I actually would consider them to be one of the few non-Bucs teams that I root for. I just think a Bucs-Jaguars matchup would be extremely fun to see. That tough Jacksonville defense against a powerful Tampa Bay offense in a game that the world is watching? Sign me up. Two Florida franchises squaring off while the traditional contenders sit at home and watch? Yes please. Blake Bortles and Leonard Fournette, two of my favorite college players ever, winning the AFC Championship Game? I'd love to see it.
Of course, I'd want the Bucs to win by 30-plus. But should they fall short in the Super Bowl, I'd feel least devastated if the loss came to Jacksonville. So, there you have it. Give me Bucs-Jaguars in the Super Bowl and I'll never ask for anything else… until the following season.