Tampa Bay Buccaneers: Pre-season round table talks Super Bowl 53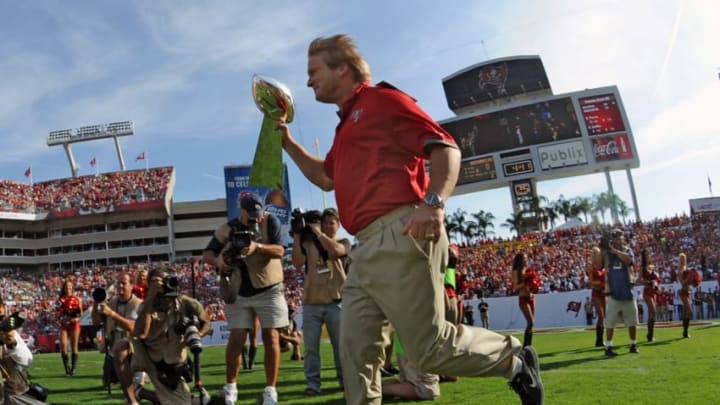 Jon Gruden, Tampa Bay Buccaneers, (Photo by Al Messerschmidt/Getty Images) /
BALTIMORE, MD – DECEMBER 31: Quarterback Andy Dalton #14 of the Cincinnati Bengals throws a pass against the Baltimore Ravens in the second half at M&T Bank Stadium on December 31, 2017 in Baltimore, Maryland. (Photo by Rob Carr/Getty Images) /
James Yarcho
Personally, there are quite a few teams I'd enjoy seeing the Tampa Bay Buccaneers face in a Super Bowl. There's the obvious choices like the Oakland Raiders, the Pittsburgh Steelers, and the New England Patriots. However, this is our dream scenario so one team stands out above all others in my mind.
The Cincinnati Bengals.
I know, I know. Very random. Those of you that know me or have listened to Locked On Bucs know I have lived in southern Ohio my entire life. I'm engulfed in the heart of Ohio State Buckeye and Cincinnati Bengals country. And let me tell you – the fans of both are insufferable.
"Catch the latest episode of the Locked on Bucs podcast, here!"
The Bengals haven't won a playoff game since the dark ages so I've always enjoyed razzing their fans after each and every letdown. In my scenario, I could no longer bask in that style of glory. I would, however, trade it in for this one.
It's already not easy being a Bucs fan. It's even harder to be an out of market Bucs fan. Having my team defeat the home team of my area would bring me endless joy and bragging rights for life.
It may not be the sexiest matchup for the NFL, but it would be the one I could get the most amped for.