NFL top 100 teams: where do the 2002 Buccaneers stand?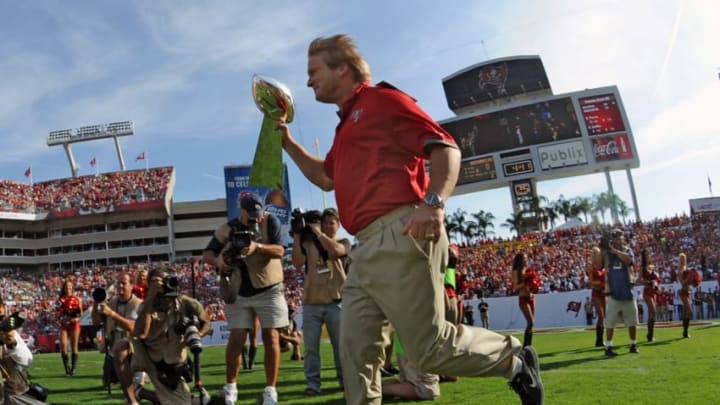 Jon Gruden, Tampa Bay Buccaneers, (Photo by Al Messerschmidt/Getty Images) /
The Tampa Bay Buccaneers have one Super Bowl to claim which came in 2002 with one of the best defenses of all time. Where do they rank all-time?
The NFL is celebrating the 100th season anniversary this season, and in preparation for this milestone season, the USA Today is compiling a list of the top 100 players, icons, and teams. After recently released their rankings for the top 100 teams of all time, the Tampa Bay Buccaneers have one Super Bowl to claim which came in 2002 with one of the best defenses of all time.
But where did they land alongside other past champions and great teams of the past? The Buccaneers were labeled as the 34th best team in these rankings. They fell right behind the 1940 Bears the "Monsters of the Midway." This is the Bear team that would throttle Washington 73-0 in the championship round for the biggest blowout in the NFL's first 99 seasons.
The Bucs were also ranked in front of the 1997 Broncos; John Elway would lead his team to a victory over the Green Bay Packers. Atop of the list sat the 1985 Bears, led by Jim McMahon and Walter Payton on offense with a transcendent defense of their own running the 46.
More from The Pewter Plank
A few teams ranked above the Bucs will stick out to Bucs fans on the list, starting with the 1999 Rams labeled the greatest show on turf coming in at number 9. The Rams were held under 20 points just one time which just so happened to be against the Bucs in the NFC Championship game.
The Bucs would lose the lead on a late Ricky Proehl touchdown. Shawn King would look to lead a game-winning drive for a Bucs victory, but the drive was cut short due to a controversial reversal of a Bert Emanuel catch at the Rams 22 yard line.
At number 28 were the 2009 New Orleans Saints. They started 13-0 but had a few hiccups at the end of the seasons including a defeat by the hands of the three-win Buccaneers in week 16. The Saints would go on to hoist the Lombardi trophy.
You could certainly make the argument that Tampa Bay should be ranked higher on this list. With arguably a top 10 defense of all time on the 2002 Championship team. For having one of the best defensive units in NFL history, and defense wins championships, the 2002 Buccaneers need to be higher on this list.
Would the 2017 eagles who are ranked 27th be able to move the ball on that monster defense. Bucs fans what do you think of the list? And where should this team rank?