Tampa Bay Buccaneers have to end postseason streak now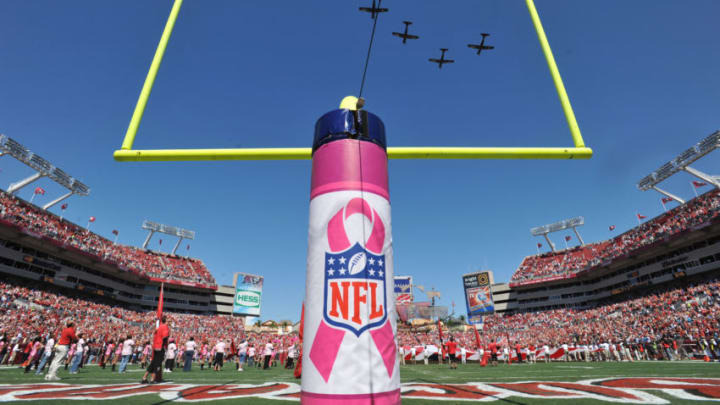 Tampa Bay Buccaneers (Photo by Larry French/Getty Images) /
The Tampa Bay Buccaneers have missed the playoffs for 12-straight seasons
It's been quite a while since we saw the Tampa Bay Buccaneers competing in the NFL postseason.
The Buccaneers have missed the playoffs each of the last 12 seasons and, honestly, it's becoming a bit unbearable for many of the Tampa faithful.
Heading into the 2020 offseason, there was a glimmer of hope that the Bucs could somehow find a way to be relevant, but no one ever expected what would happen next.
The Buccaneers signed Tom Brady to a two-year deal and followed that up with a trade for TE Rob Gronkowski. The NFL world went wild as no one ever expected something of that magnitude happening in Tampa and, as a result, many analysts have now pegged the Bucs as one of the top competitors for the NFC.
It's win now or forever hold your peace for the Buccaneers
Tampa Bay made one thing clear with its signings, trades and roster moves this offseason: The franchise is in win-now mode.
If the Buccaneers are ever going to get back to the playoffs and compete, it has to be this year. It has to be now.
While there is certainly room and reason to believe that the Bucs could be back and stay relevant over the next half-decade because of the young talent, the truth of the matter is that this team has sold-out to the idea of getting to the postseason now and doing whatever it takes to be relevant right here in this moment.
It's risky, sure. But just like Bruce Arians says: "You've got to risk it for the biscuit."
If the Bucs can't come through this season with a playoff berth, it may be quite a while before the stars align for another run. This team has the talent and there seems to be great focus and excitement in the locker room. You've got the pieces, but it's about putting it all together.
Can they get the job done? It's imperative they find a way to do just that.