Buccaneers: 3 takeaways from the first scrimmage of Training Camp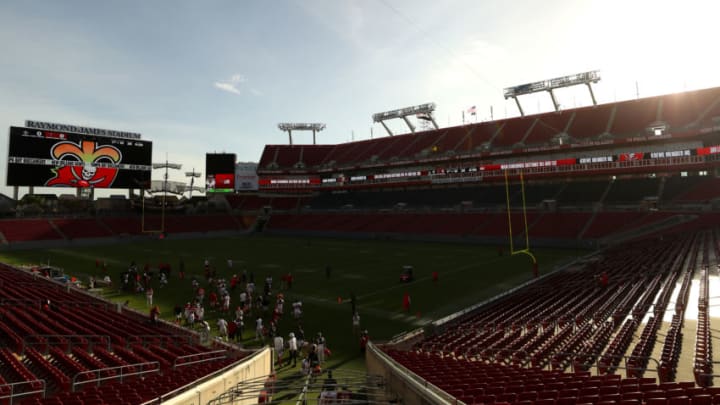 Tampa Bay Buccaneers (Photo by Mike Ehrmann/Getty Images) /
Tampa Bay Buccaneers /
Three takeaways from first scrimmage of Training Camp for the Tampa Bay Buccaneers
The Tampa Bay Buccaneers held their first scrimmage inside Raymond-James Stadium Friday morning as they continue to prepare for the upcoming season.
The Buccaneers took to the field and held a full scrimmage, going through many different situations and putting together the things they've worked on in practice over the course of the last couple of weeks.
With the scrimmage finished, here's a look at three major takeaways from the day.
1. No serious injuries
There were no serious injuries reported from the Buccaneers, at least as of yet.
Both Ronald Jones II and Carlton Davis went down with apparent injuries, but neither are thought to be serious. Jones II was seen on the sideline with a wrap on his foot. Davis suffered a right shoulder injury.
Following practice, Bruce Arians told the media he doesn't think either are serious and that's really good news for Tampa Bay as the team looks to stay healthy just a couple of weeks out from the season-opener.