Bruce Arians the right coach for the Tampa Bay Buccaneers?
The Buccaneers have experienced numerous highs and lows so far this season, and the team may want to re-evaluate their coaching staff's effectiveness.
The Buccaneers are underachieving so far to begin the 2020 NFL season. This take does not mean that the Bucs are a bad team, but expecting more from your team should be common amongst fan bases.
Tampa Bay is seven and four and performing at a higher level than any previous season in recent memory, but how can fans be satisfied with how the team has performed? The Buccaneers have been dominated by most competition that is above .500, and their "impressive" wins have come against backup quarterbacks and weak teams.
Given the talent on the roster, Bucs fans are justified in wanting more from their team, especially when this team should easily be at the top of the playoff race in the NFC. If you are satisfied with the current track of the team, you will not be happy with what you read, but complacency rarely leads to success or improvement.
While numerous people are to blame for the underachieving, the majority of blame will need to fall on the head coach. At the end of the day, it is Bruce Arians' job to make sure the team is prepared and playing up to its highest potential, and the team has not been there enough this season.
Bruce Arians is in a tricky situation, but there are no excuses for the lack of wins this year. The Bucs have one of the most talented rosters in the NFL, so it is hard to justify some of the horrific losses that have occurred during primetime.
The Bucs have several players performing in the top-five of their position, Tom Brady has played at a level that is far greater than his recent seasons in New England, and the defense has taken strides forward over the misery that has plagued the team for the past decade. There aren't any excuses for losses against teams like the Bears and the Saints twice.
Finishing the season above .500 should not be the end-all for the Buccaneers. Tampa Bay has potential much greater than that, and it should be the time to question whether Bruce Arians is the coach to bring the most out of these players.
Each week seems to show a new shortcoming in the stubborn coach's gameplan, but the tearing down of players to the media should be enough to pose some serious questions about Arians' future with the Bucs. Holding players accountable is one thing, but disparaging players to the media is inexcusable, like this example explained on ProFootballTalk.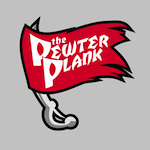 Want your voice heard? Join the The Pewter Plank team!
Write for us!
While the Buccaneers are still in a decent position, good teams always look for ways to improve, and there is room for improvement in Bruce Arians' decision-making.