Tampa Bay Buccaneers embarrass Michael Thomas in huge win
Zero catches. Zero touchdowns. Zero impact. Where was Michael Thomas?
In the biggest game of the season, most teams rely on their big-name players to step up to the plate when it matters most. Depth helps, but it never replaces superstars, especially during the playoffs. Apparently, Michael Thomas didn't get the memo.
After a huge extension and one of the best statistical seasons by a wide receiver ever in 2019, Michael Thomas had a very quiet 2020 season. The Saints tried to run the score up against the Buccaneers early in the season and fed Thomas more than they needed, which eventually led to an injury.
Injuries can occur at any time and weren't only due to that one decision by Sean Payton, but one has to wonder if Thomas had any business playing so many reps while holding a convincing lead.
Regardless, Thomas was able to recover from his injury by the midway point of the season, and his impact was felt down the stretch. The second half of the season showed a return of one of the best receivers in the NFL, but the Buccaneer defense was more than ready.
The Saints are the type of team to let you know that they beat you. The past few years have seen an increase in the number of shots that the Saints take at their division rival on Twitter, and they won enough that this occurred at an annoying frequency. Thomas let everyone know that he was the best receiver in the NFL last season, and that painted a target on his back.
In a shocking turn of events, the Buccaneers held Thomas to no impact in the recent playoff win. Thomas had zero receptions on four targets, and Sean Murphy-Bunting and Carlton Davis had their way in the matchup.
The Buccaneer defense played with a chip on their shoulders, and Thomas was one of several players that were singled out by the Bucs on Twitter after the win. If you want to be the type of player to talk trash, you always have to be able to back it up. Performances like the other night lead to even more talking coming back.
Thomas is still one of the best receivers in the league, but this stat line shows how much the Buccaneers have grown. Tampa Bay's secondary has made massive strides when it mattered most, and Michael Thomas was just the first superstar receiver on this playoff run for the Buccaneers to shut down. Devante Adams has just been put on notice.
Want to write about the Buccaneers? Apply below!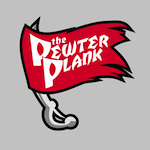 Want your voice heard? Join the The Pewter Plank team!
Write for us!