Tampa Bay's stars starting to align for Buccaneers 2021 season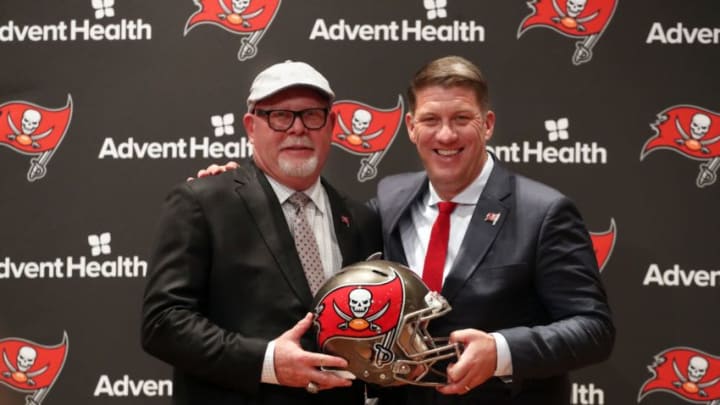 Bruce Arians, Jason Licht, Tampa Bay Buccaneers Mandatory Credit: Kim Klement-USA TODAY Sports /
With free agency getting ready to crank into full swing, the Tampa Bay Buccaneers management has already started to lock down their top FA players in preparation for TB12-SBLVI.  Everyone in the NFL was hoping that Tampa's cap space would shrivel, Lavonte David would want a big payday, and Chris Godwin would somehow wander off to another team.  And Shaquil Barrett? He was a goner too if you listened to the pundits and so-called football experts. However Jason Licht and Bruce Arians had a plan all along, and now, you can watch it come to fruition.
Well, with a Franchise tag here, and a back-end loaded contract there, here a deal, there a deal, and everywhere they're getting paid, old Justin Licht he had a farm and now he has his players. Back, that is.
So, with Godwin anointed with the Franchise Tag, and Lavonte David sitting on a $25 mil, two-year deal, and Tom Brady, Mike Evans, and who knows who all getting ready to cut cap-friendly contracts it looks as if the Buccaneers may be back in full force for 2021. All the moving pieces are beginning to show up in the right places and prices, and who knows maybe another run for the Lombardi Trophy is not some fantasy?
No one in the National Football League believes that Tampa's Team can't repeat, or at least be in the conversation for Super Bowl LVI. After all, look at what they were able to get done last season, with barely anytime to get to know one another and barely digging into the playbook.
More from The Pewter Plank
Sure, there was likely a prognosticator or two out there who thought that it might happen. But no one was standing up spewing that Tampa was going to be the first team ever to secure a Lombardi on their own home field. What irony to bare-knuckle your way into the playoffs, knock off three road opponents, including both the New Orleans Saints and the Green Bay Packers, not to mention that team that plays in Maryland. Only to be rewarded with a home game against the AFC Champion Kansas City Chiefs.
Irony, irony, irony. But even so, day of the game, very few of the pick 'em crowd would go with the un-vaunted Buccaneers. One even went so far as to say, or at least something to the effect of, "Well, you shouldn't bet against Brady." then promptly picked the Chiefs. No question there was plenty of egg to go on the faces of many of the talking heads of the National Football League media.
Then, the talk about "keeping the band together," (kudos to John Belushi and Dan Ackroyd, aka The Blues Brothers) kept going south. They "don't really have that much cap space," they "won't be able to keep everybody," and "Lavonte David is going to leave town for a big contract."
It's enough to make one call out BULL LONEY.
All along, they have been saying how they will be bringing the team back. Now, they have two of the biggest parts of the deal done, and Barrett is likely to get a "HUGE" contract, as he deserves. And the rest of the free agents will fall in line.
Sure, the Buccaneers may lose a player here or there, but not anyone that is key to the team's ongoing success. Yes, we can expect some painful cuts due to overstocking and underplaying in several of the different position groups. There seems to be some room in the tight end and running back rooms, and likely some of the backups in the backfield, but big names NO. The ones that were instrumental in bringing home the Super Bowl LV Lombardi trophy, NO.
There's little doubt that next year's Buccaneers will be different from this year's Buccaneers. Just think, last year they picked up two starters in the draft, Tristan Wirfs on the O-line and Antoine Winfield Jr. in the secondary. Don't you think it's possible that Licht and crew can't pull in one or two more?
So, some of the supporting cast will like change, but the stars will remain the stars for 2021. When the curtain call comes next season for the Super Bowl LVI Lombardi Trophy, don't be too surprised if you see a bunch of the usual suspects.