Tampa Bay Buccaneers: Should DeMarco Murray be an option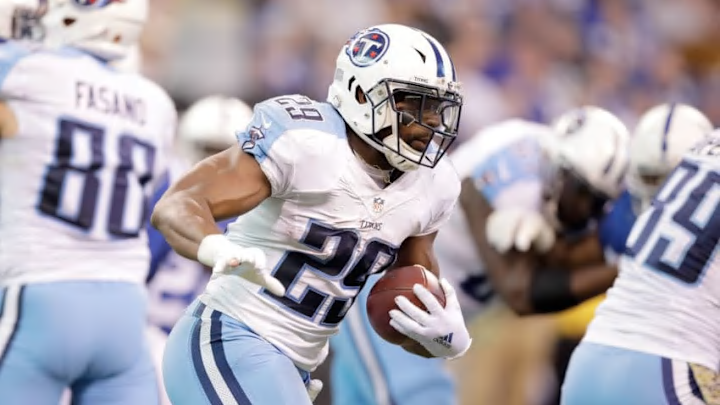 INDIANAPOLIS, IN - NOVEMBER 20: DeMarco Murray #29 of the Tennessee Titans runs with the ball during the game against the Indianapolis Colts at Lucas Oil Stadium on November 20, 2016 in Indianapolis, Indiana. (Photo by Andy Lyons/Getty Images) /
With all the recent rumors in interest with Adrian Peterson and the Buccaneers, why couldn't the Bucs take a look at a different running back, DeMarco Murray?
Ronald Jones, one of the Tampa Bay Buccaneers second-round picks, is likely to come in and be the leader of a "four-headed monster" in the Buccaneers' backfield. With a likely timeshare early with Peyton Barber and Jacquizz Rodgers, and utilizing Charles Sims on third downs, why should the Buccaneers consider another running back? The rumors of Adrian Peterson got me thinking about other options the Bucs could look at. Peterson's time as an elite running back is clearly gone and as a 33-year-old free agent coming off another down season, the impact he would have is minimal at best. The players remaining at running back are slim, but former All-Pro running back DeMarco Murray is the next best option.
DeMarco Murray is coming off the worst season of his career, however, he was splitting carries with Derrick Henry and was playing through multiple injuries. While he averaged a career low in yards per carry at 3.6, Peyton Barber and Jacquizz Rodgers were at 3.9 and 3.8 respectively. None of those numbers are eye-popping but the season before DeMarco had nearly 1300 yards and nine touchdowns at a 4.4 yards per carry. He's also a reliable pass catcher. Averaging 45 catches, 322 yards, and two receiving touchdowns over the past three seasons he can do anything Charles Sims can do while also threatening to run the ball.
DeMarco Murray would provide a veteran presence that has produced elite running back numbers at a more consistent clip than Doug Martin did when he was on the team. DeMarco was also cut for salary purposes by the Titans and with a deep draft and young players on the market, Murray took a back seat in free agency, but he still has skill.
More from Bucs News
Currently, the Buccaneers still have around $6 million in cap space. Recently, former Broncos running back C.J. Anderson signed with the Panthers for one year $1.75 million and he's a younger running back with higher long-term potential. If a team were to sign Murray I would assume he would receive one or two years in the $2.5 million per year range. Something the Bucs could pay and could clear up cap space by cutting one of the current backs on the roster.
RIght now Ronald Jones is the guy in my opinion. He has the speed that the Buccaneers have never had and big-play ability that the Buccaneers have been severely lacking. Peyton Barber and Jacquizz Rodgers are nice pieces but haven't shown they are or could be a top 32 NFL running back. While I'm not saying they will or even should sign DeMarco, I think he would be a better option over the current Buccaneers depth. He's four years removed from 1800 yards and his versatility would give them something Adrian Peterson couldn't have. As a number two option, I would definitely consider it. They have bigger needs right now than adding an aging running back but it would definitely be a luxury addition.
Next: Getting To Know The Marpets
Do you think the Buccaneers should be interested in DeMarco Murray? Sound off on Twitter or Facebook if you think they should make another move in the backfield.